I recently bought an amazing little cook book – 'Baking Frame by Frame'. It's got these amazing step-by-step photos of the process of each recipe, which is a) a great way to cheat when it comes to composition etc (hey, amateur food photographer here! Totally allowed to
steal
borrow ideas for shots!) and b) really handy so that you can tell what your recipe should look like at each stage.
The beatifulwonderfulamazing book was only $9.00, so naturally, I snapped it up. Leafing through it, I couldn't really decide what to bake. There was so much choice! Did I want to make croissants or muffins? An upside-down cake or a Bundt? Pies or quiches? In the end I chose rye bread because I've been meaning to make bread for quite some time. Also, my stomach likes to be difficult and although I am not celiac, I tend to have difficulty digesting wheat (actually, according to the doctor, any grain that I have too much of will become a problem for me), so as a result, I have to rotate my grains and try and reduce my wheat intake. Yay!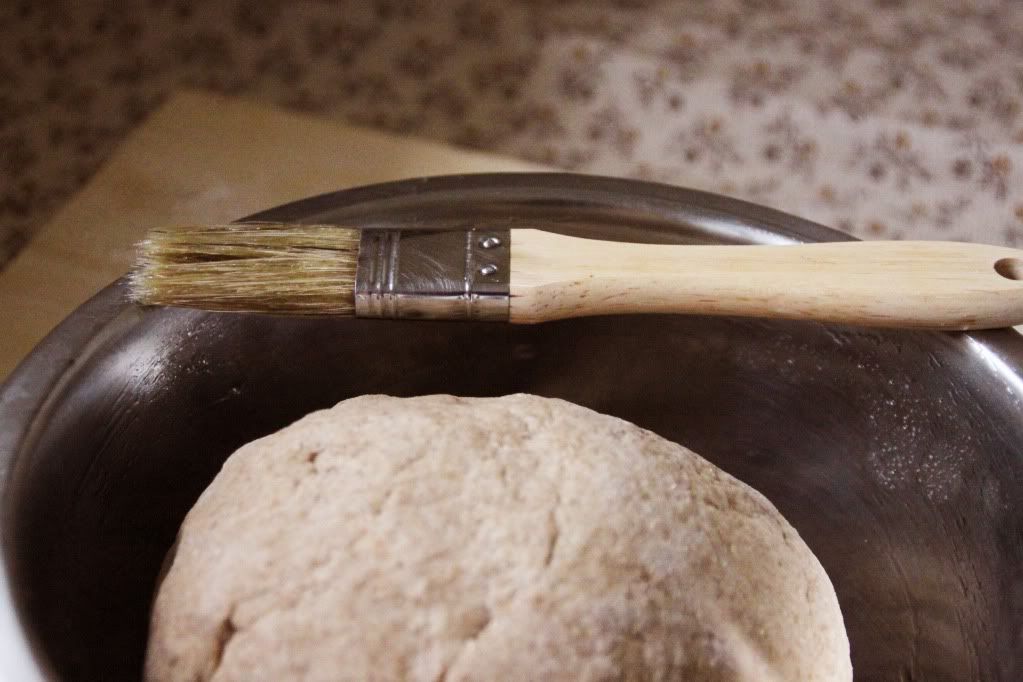 So today, having not much else to do, I got to work. I decided to make two loaves. One would be a straight forward, regular rye loaf. The other, a rosemary and olive flavour sensation!
This is the recipe I used:
Rye bread
Ingredients:
450g rye flour
225g strong white flour, plus extra for dusting
2tsp salt
2tsp light brown sugar
I used regular brown sugar, and reduced it to 1.5tsp
1.5tsp easy-blend dried yeast
425ml lukewarm water (I hate lukewarm water. It makes me think of being in a public pool, and swimming through a patch of lukewarm water. Yeah. You know what that is.)
2tsp vegetable oil, plus extra for greasing
1 egg white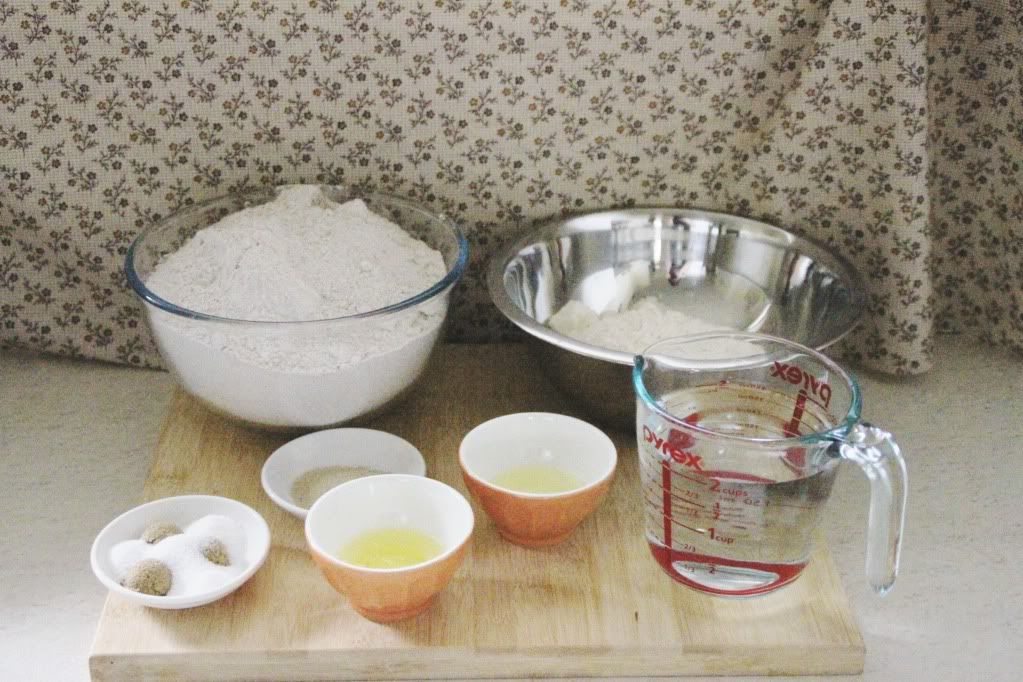 Method:
Sift together rye flour, strong flour and salt in a bowl. Add yeast and sugar. Stir in until fully incorporated.
Make a well in the centre of the mixture and add the oil and water.
Stir until the dough begins to come together and leaves the side of the bowl. If adding olives or rosemary (or any other herbs or vegetables) add them to the mixture once it has just started to come together and continue mixing.
Turn out onto lightly floured surface and knead for ten minutes until elastic and smooth.
Brush a bowl with the extra oil, then shape the dough into a ball, place it in the bowl and leave it to rise in a warm place for two hours, or until doubled in volume.
Oil a baking tray or put baking paper down.
Turn the dough onto a lightly floured surface and knock back, then knead for another ten minutes.
Shape the dough into a loaf and put onto the baking tray and cover. Let it rise again in a warm place for a further 40 minutes.
Preheat the oven to 190˚C and beat the egg white and 1 tablespoon of water in a bowl.
Bake the loaf for 20 minutes, then remove and brush with the egg white glaze. Bake for another 20 minutes and repeat.
Bake again for a further 20-30 minutes, until the crust is a rich brown colour and transfer to a wire rack to cool.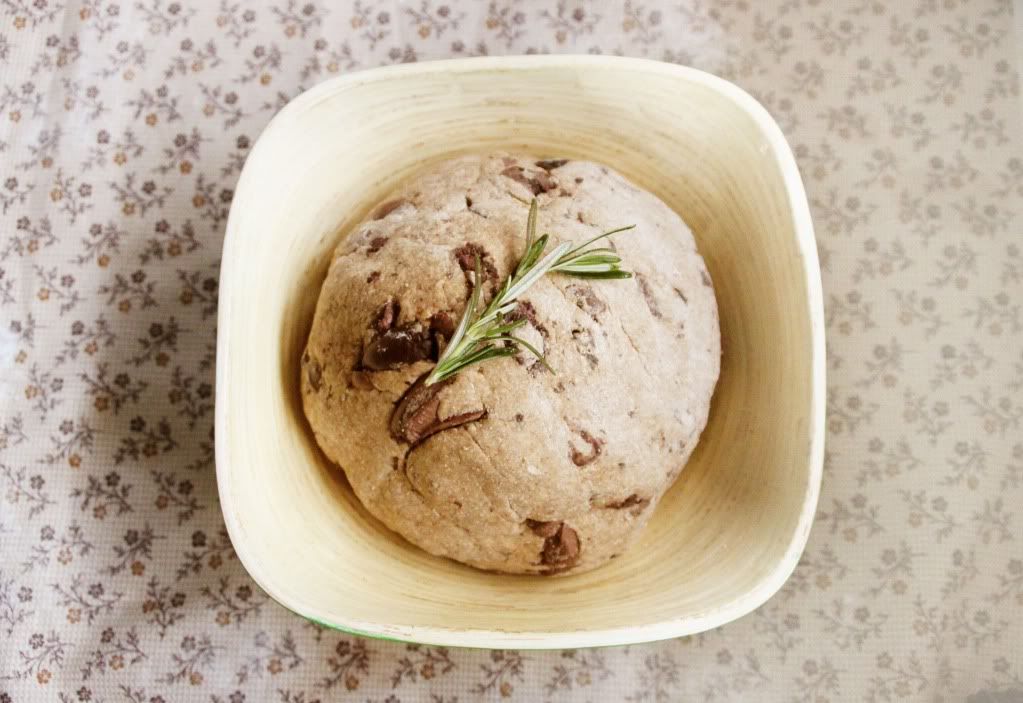 The process was a bit tedious, especially the bit with the oven and the egg whites... Nonetheless, it was fairly easy, and a perfect recipe if you've got a day at home, or even just two hours really. It's simple enough to make the dough in the morning, then let it sit for the day before knocking it back, quickly kneading it again and then starting the oven drama (after letting it sit for another little while of course).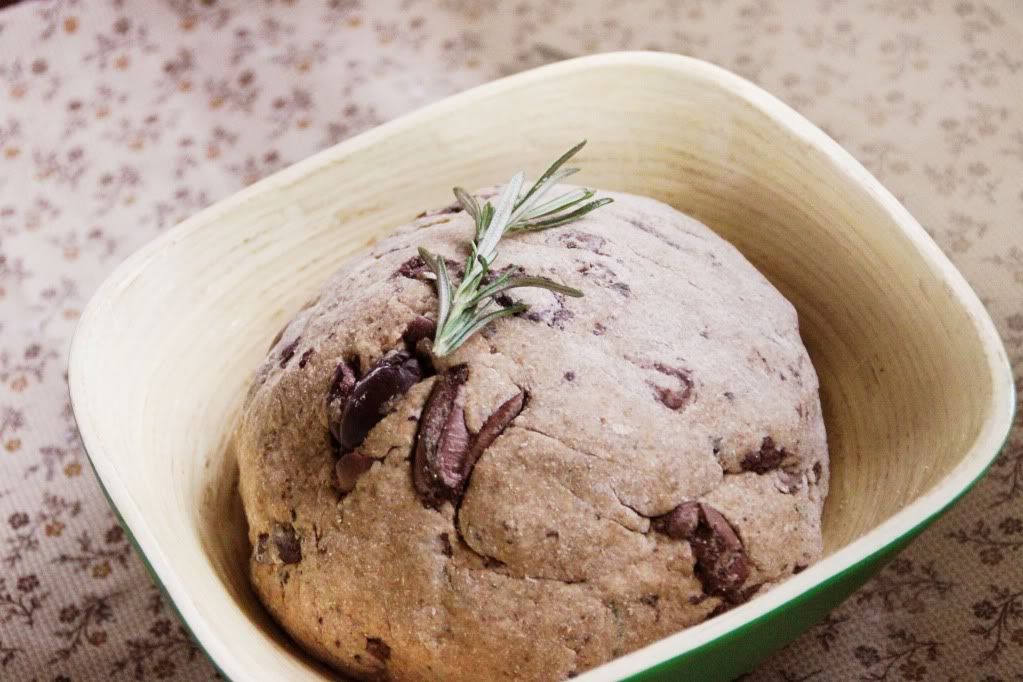 I love seeing dough go from this...
...to this.
Taste-wise it was great. Had that beautiful rye bite, which I adore. The rosemary and olive version was by far my favourite. Absolutely delicious. The flavours worked really well with the tanginess of the rye, and it didn't even need any butter or spread to be incredible.
The texture too was perfect. Nice and dense, but not too heavy on the stomach. The rosemary and olive version was a tinsy weenie bit moist, because I wasn't able to squeeze all the liquid out of the olives (though I did add more flour to try and counter-act that) and probably could have done with a tiny bit longer in the oven, but you hardly notice it at all with something spread on top.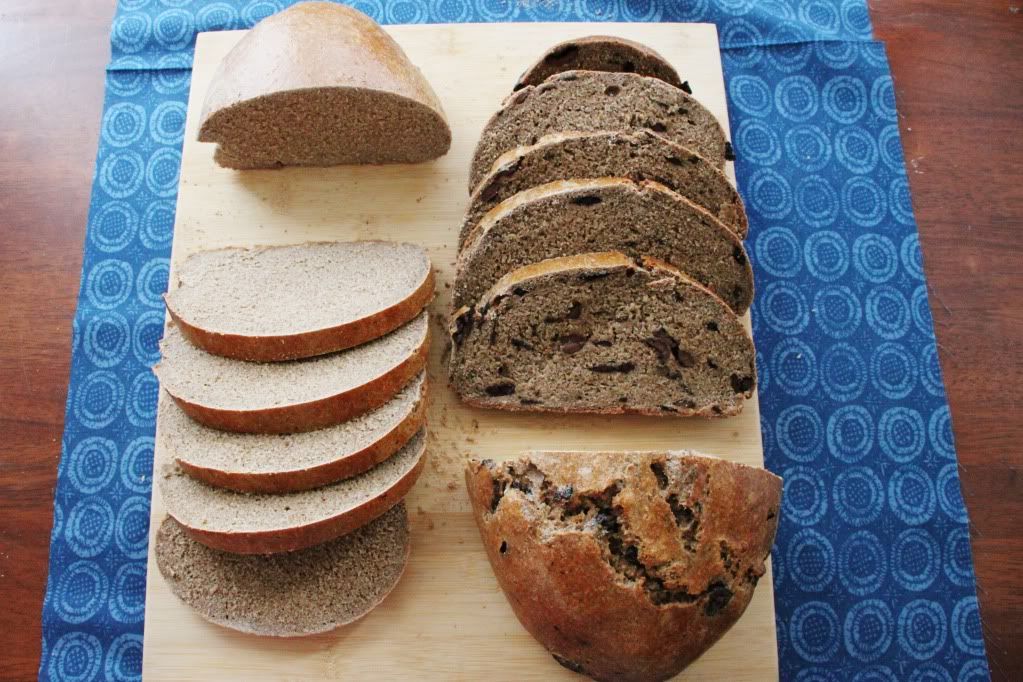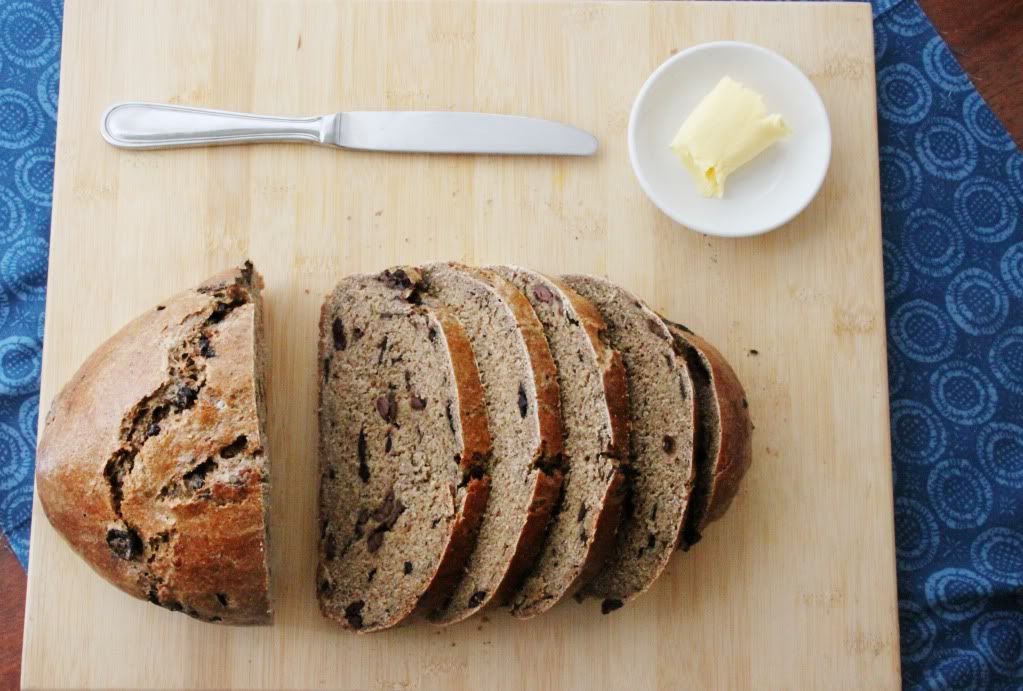 I actually prefer my bread with avocado, but I didn't have a ripe one available.
My mum's a bit like me when it comes to grains (though she prefers to eat almost entirely gluten-free), but I told her about my rye bread and she's very excited. I'll be popping by today to drop some off, and maybe even get the recipes for two of my favourite foods desserts – Hurmašice (Hor-ma-sti-che) and Tufahije (Tu-fah-hi-ye).
Maybe we'll even see a post about them some time soon, though uni starts tomorrow which basically means my life and free time are forfeit....