A healthy slice.
Oh yes, you heard me. Healthy. I understand your concern. Healthy = not very tasty.
Usually.
But not this little baby.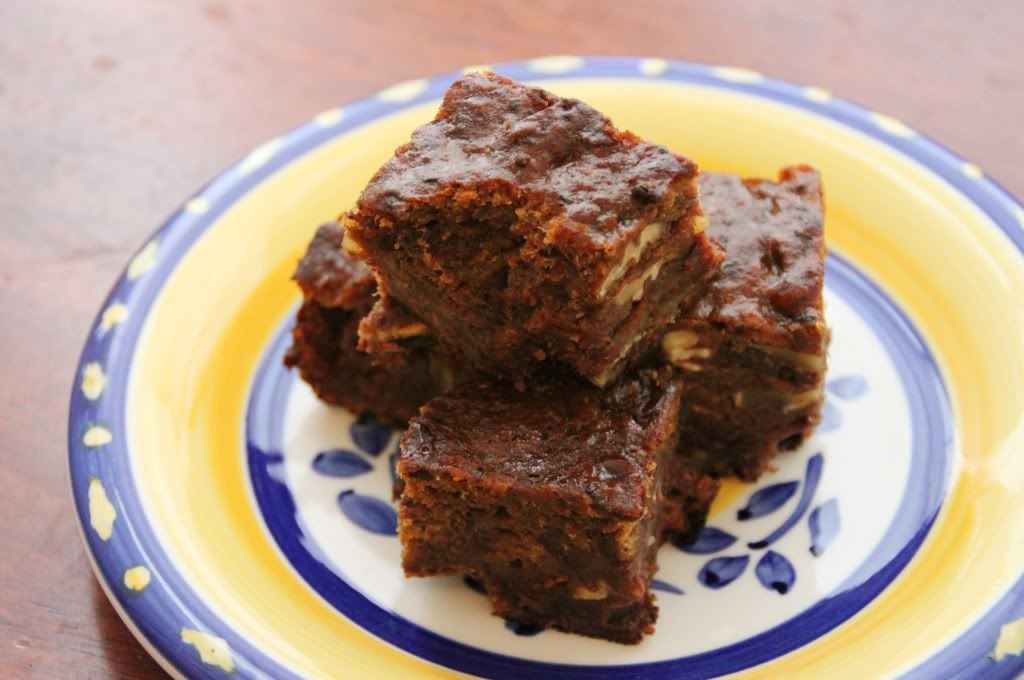 Dates, cinnamon, pecans, honey...what more could you want? Nothing! But. There are a few things you might not want. How about refined sugar, butter and bleached white flour? This little baby's in the clear. (Ok, it has a *tiny* bit of white self-raising flour, but only because I couldn't find where I had put my whole wheat stuff!) Honey is used to sweeten rather than sugar, canola oil instead of butter, and spelt flour replaces regular wheat. Sounds pretty good, doesn't it? Wait til you taste it.
It's delicious, and tastes a whole lot more decadent than it actually is!
Date and Pecan Slice
Ingredients:
600g pitted dried dates, chopped
500ml water
1 tsp bicarbonate soda
125g oil (the recipe called for butter, so you could substitute the same amount for butter or margarine or...cream cheese, whatever, really!)
155g honey (again, the recipe called for something different. Brown sugar. But again, substitution is a healthy gal's friend)
2 eggs
126 spelt (or all purpose or anything else you want) flour
60g self-raising flour
½ tsp cinnamon or to taste
Method:
1. Preheat the oven to 180˚C. Lightly grease a 23cm shallow tin and line the base with baking paper.
2. Put the dates in a saucepan with the water and bring to the boil. Remove from heat and stir in the bicarbonate soda. Leave to cool at room temperature.
3. With electric beaters, beat together the oil and honey (butter and sugar). Add eggs one at a time, beating after each addition (I didn't bother with the beating as obviously, I just whisked).
4. Sift the flours and cinnamon into a bowl, then fold in the honey and oil mixture alternately with the date mixture.
5. Spoon the batter into the prepared tin and bake for around an hour (mine was done at about 55 minutes), or until a skewer inserted into the centre come out clean.
6. Remove and leave to cool for five minutes, before turning out onto wire rack to cool completely.
7. Cut into 36 pieces, or as many as you want. If you want, you can sprinkle with a mix of icing sugar and cinnamon before serving, or perhaps drizzle it in honey...
They taste amazing straight out of the fridge or warmed up. Really, they're almost
too
versatile.
Edit: Just so we're clear. The hairy looking stuff in the slice is fibres from the dates. I'm not shedding all over the food!