This coming Tuesday, I'm getting together with a friend and our boyfriends (incidentally, they're brothers!) for a bit of cheese and wine goodness. Everyone has to bring something (or a few somethings actually...), with the aim of the game being to provide a diverse spread. Now, it being three days away, I hadn't thought too much about what I was going to do, I mean...it's THREE WHOLE DAYS AWAY. However, yesterday I got a text from my lovely friend informing me that she had gone crazy with purchasing things for the night. She bought blue gorgonzola cheese, triple brie, olives, crackers, fig paste, pear paste, marinated chillies, dates, grapes and a pistachio terrine leaving me to gawk at the text describing all of it and ask 'well did you leave anything for me to sort out!?'
So after I lot of thinking and a few more texts exchanged, I went and picked up a nice pecorino, some goat's cheese, fresh figs and almonds. The goat's cheese I'm going to stuff into dates, and I'll roast and spice the almonds. I also bought ingredients to make biscotti, mustard batons and nougat (one of our mutual favourite foods).
Now, I actually attempted the nougat yesterday but...well...although it tastes delicious it refuses to set, so I have to work out how to salvage it (ideas, please!) before I write a post on in.
I made the biscotti today and was incredibly happy with the results. Particularly after my disastrous attempt at nougat!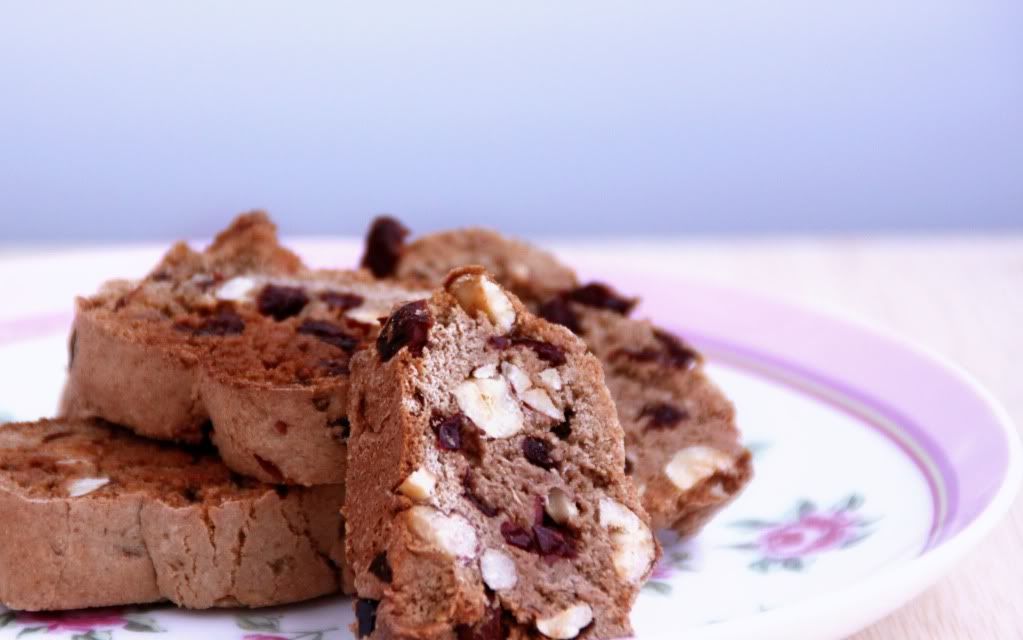 Recipe
Ingredients:
85g brown sugar
1 large egg
140g plain flour
½ tsp baking powder
1 tsp ground allspice
60g dried cranberries
80g hazelnuts, roughly chopped
Method:
1. Preheat the oven to 180˚C and line a baking tray with baking paper.
2. Beat together the sugar and eggs until pale and thick enough to form a trail.
3. Sift the flour, baking powder and allspice into the mixture and fold together.
4. Stir in the cranberries and hazelnuts.
5. Lightly flour hands and shape the mixture into a long roll, about 28cm long. Press to flatten slightly.
6. Transfer onto baking tray and bake for 20-25 minutes or until golden.
7. Remove and set aside to cool for 5 minutes.
8. Slice log into 1.5cm thick slice and arrange on baking tray.
9. Bake for another ten minutes, or until exposed surface is golden.
10. Let cool on a wire rack.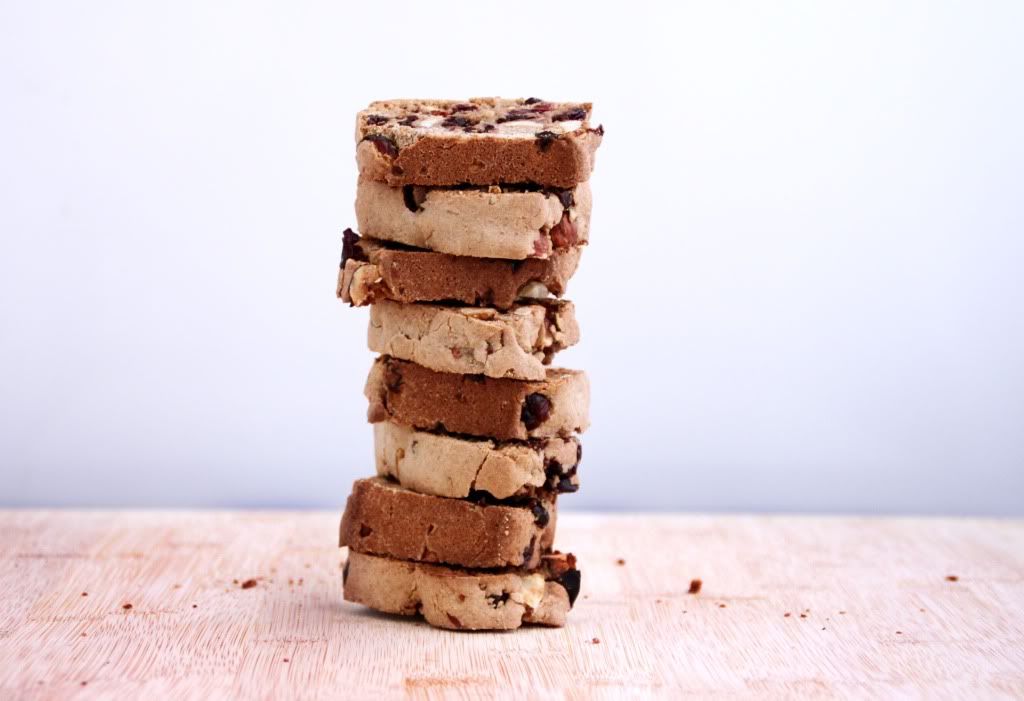 My confidence is now a little less shaky, because these little babies are incredible! Enjoy with a nice hot cup of coffee or hot chocolate (at the end of a long night of cheese and wine!)