Now that autumn is rolling in, I really feel like something nice and
warm
for lunch. Not too warm, mind! It's still not time to break out the soup and stew recipes, but a nice warm salad, I think, is would be wonderful.
And this roast beetroot and apple salad from 'Good Taste' magazine is just that.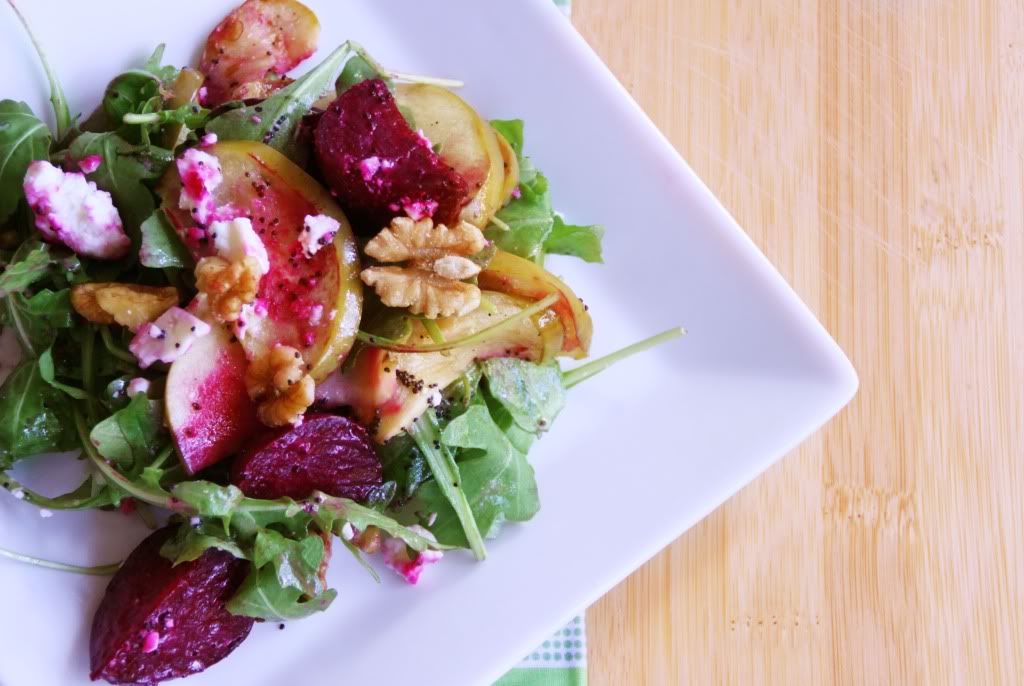 Roast Beetroot and Apple Salad with Poppy Seed Dressing
Ingredients:
Salad:
1 bunch (800gs beetroot bulbs, trimmed)
4 royal gala apples, cored and cut into 1cm-thick wedges (I used granny smith)
1 ½ tbs olive oil
1 tbs sugar
2 bunches rocket, trimmed
55g walnut halves (about ½ a cup)
2008 goats cheese, crumbled
Dressing:
1 egg yolk
2 ½ tbs apple cider vinegar
1 tbs Dijon mustard
1 cup olive oil
2 ½ tbs poppy seeds.
Method:
1. To make the dressing, whisk egg yolk, vinegar and mustard in a bowl until combined. Add the oil in a thin, steady stream, whisking constantly. Stir in the poppy seeds. Season with salt and pepper.
2. Preheat oven to 180˚C. Wrap each beetroot blb in alfoil and bake on tray for 1 hour and 20 minutes or until tender. Set aside to cool, then peel and cut into wedges.
3. Meanwhile, place the apples in a roasting pan. Drizzle with oil and sprinkle with dugar. Bake for 25-30 minutes or until soft and golden. Set aside to cool.
4. Combine beetroot, rocket and apple in a bowl. Divide among plates. Top with walnuts, goats cheese and dressing.
And there you have it! A delicious, warm (but not too warm) salad to hail in the colder months! Yum! Plus, it's healthy! Who could ask for more!?