Blame the very talented Jennifer from
Delicieux
, whose beautiful
Upside Down Pear Cake
started all of this.
See, my initial plan was to simply bake some pears. Delicious. I love baked pears. But then SHE had to come along and infect my mind with gorgeous images of upside down cakes and really...let's be serious. How could I refuse? So, rather than baked pears as I had intended, I bring you a Honey and Orange Upside Down Pear Cake (honey and orange seems to be a theme with me lately... honey and orange mascarpone anyone?
Anyway, I looked long and hard for a recipe that I liked, and one that could be easily tweaked to suit me and finally decided on
this one
from Gourmet Traveller, which I then
mutilated
changed it.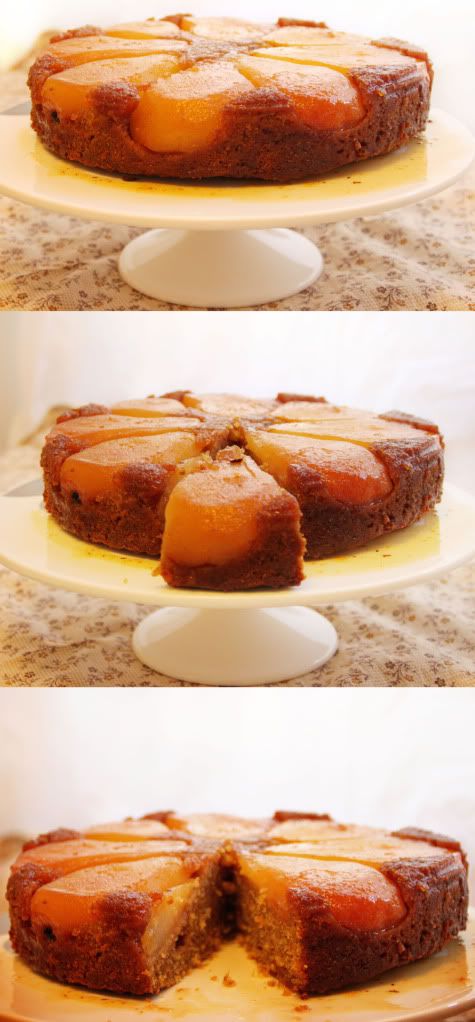 This is the recipe, with my amendments:
Honey and Orange Upside-Down Pear Cake
Ingredients:
Cake:
150g caster sugar
100g almond meal
100g hazelnut meal
60g desiccated coconut
100g rye flour
200g canola oil
200g honey
3 eggs, at room temperature, lightly whisked
Zest of two oranges
1 tsp vanilla essence (if you can though, DEFINITELY se scraped vanilla seeds as they give a MUCH better flavour).
Roast pears:
4 large pears (I used Williams)
Juice of 1 orange
Honey to drizzle
3 or 4 tsp granulated sugar to sprinkle.
Method:
Pears:
1. Preheat oven to 150C.
2. Peel pears and halve lengthways.
3. Place cut-side down in a baking dish, sprinkle over sugar and drizzle with honey and orange juice.
4. Cover with foil and bake for up to 4 hours or until tender.
5. Cool. (At this stage you can remove the cores and stems, however I left mine on because it added a rustic charm...or so I think)
6. Strain liquid through a sieve and reserve. Pears may be cooked the day before and refrigerated.
Cake:
1. Preheat oven to 160˚C.
2. Place caster sugar in a small saucepan, add enough water to dampen and cook over high heat for 10 minutes or until caramel in colour.
3. caramel into a 20cm-round cake pan with high sides and swirl to coat base and sides.
4. Mix together almond and hazelnut meal, coconut and flour.
5. In a separate bowl, whisk together oil, orange zest, vanilla and honey. Add eggs a little at a time, whisking to incorporate before adding more.
6. Mix dry mixture into wet.
7. Arrange roast pears, round-side down onto cake pan, then spoon over the cake mixture.
8. Place the cake pan into a baking dish and cover base with 5mm of water.
9. Bake for 2 hours, or until firm and golden.
10. Allow cake to cool in pan, however, before inverting onto a plate, warm the base over the stove to melt the caramel.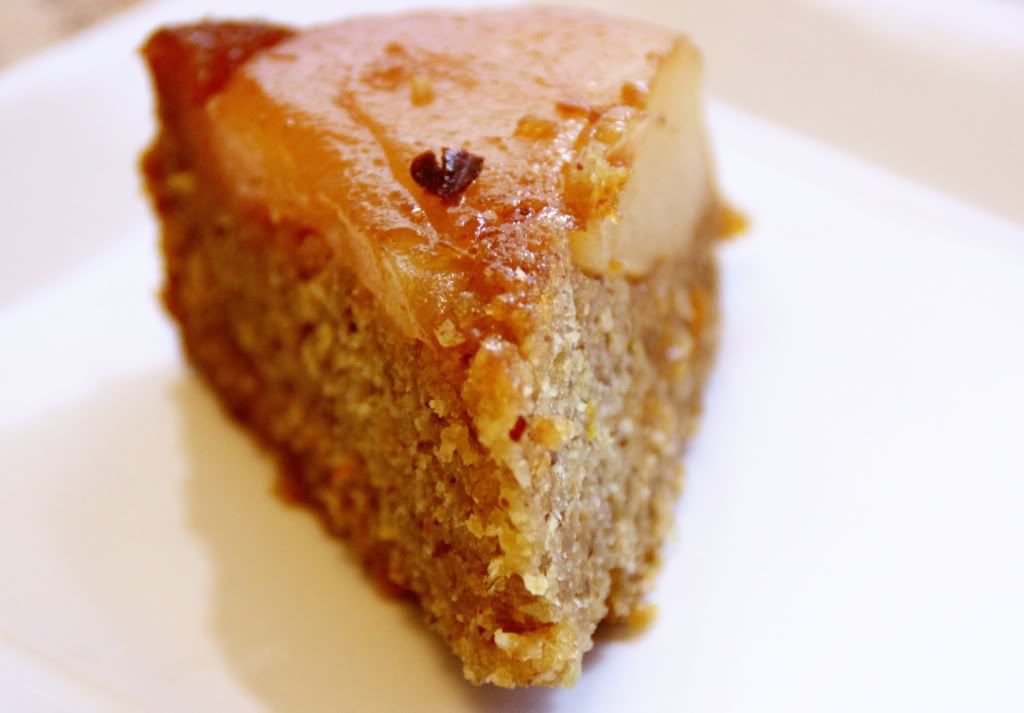 This would be sensational served with some vanilla bean ice cream or some Chantilly, though being lactose intolerant myself, I haven't tried it with either. On its own it was incredible!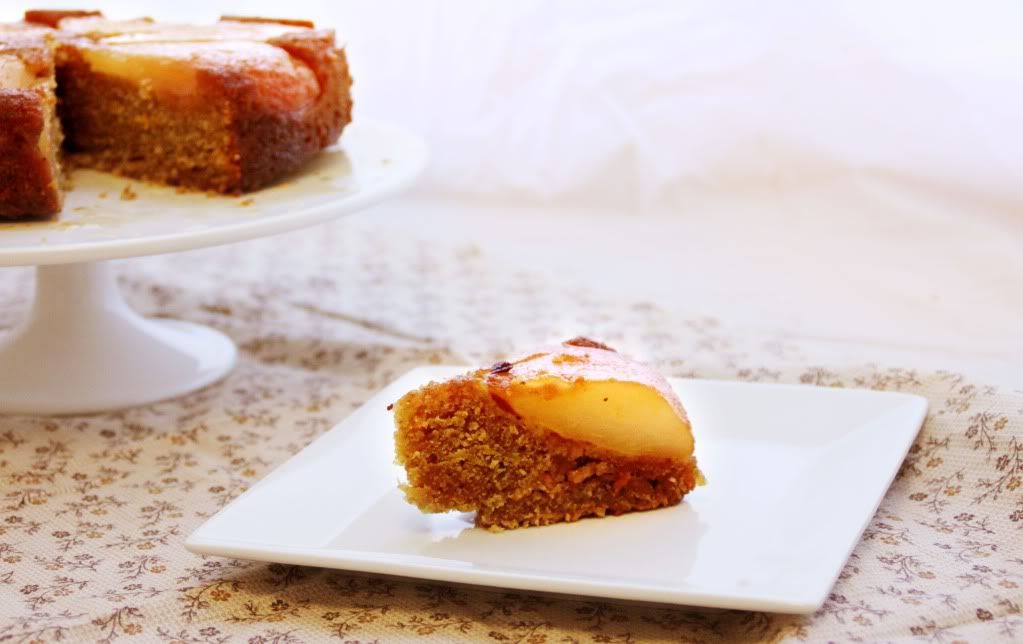 The cake has a distinctly nutty flavour, unsurprising given the amount of almond and hazelnut meal in it! It's beautiful, moist and just sweet enough. And the pears! Oh dear sweet lord! The pears! Heavenly. Seriously, I have never had pears that good in my life. They were like...oh, I don't even know. Better than chocolate. Yes. Better than chocolate. That's a big call. But they're pretty special pears.
I had a few that wouldn't fit in the pan, so tentatively I tried a piece of one that had sort off...fallen off. And then I pretty much inhaled the others. I couldn't stop myself. Peary perfect.