Wowee! It's been a while!
How's everyone been? How was Mother's Day? I unfortunately had to work on Mother's day, but that night I went home and made dinner for my family, which was nicely finished off with a raw, vegan cheesecake (which didn't look nearly as impressive as I had hoped, hence the lack of post and/or recipe). It was a nice evening, very laid back which is my family's style. Most importantly though, mum enjoyed herself!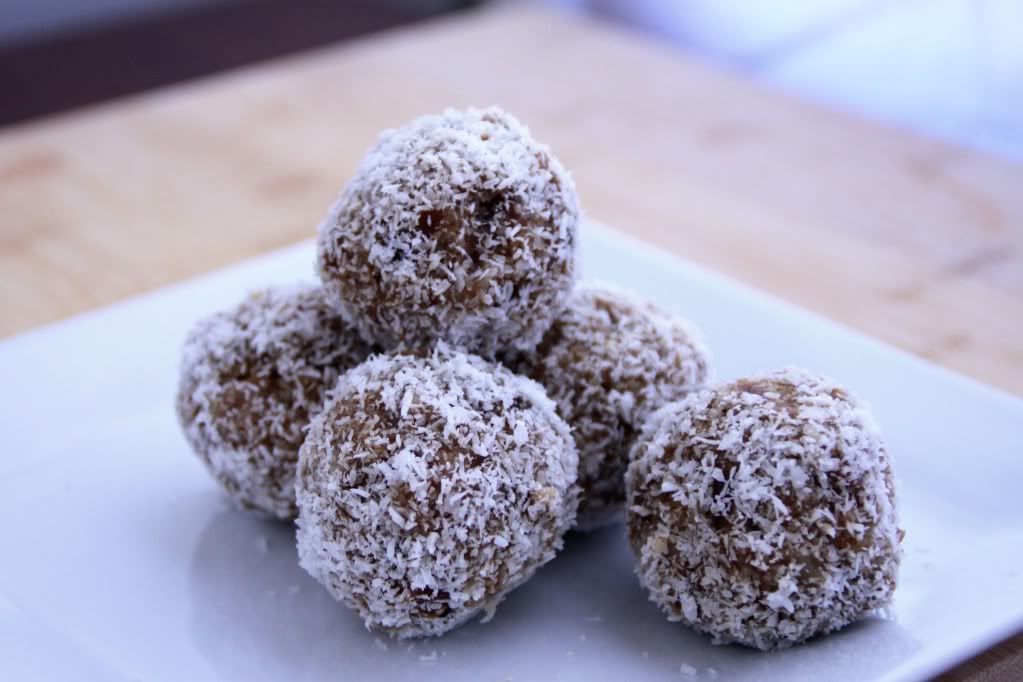 After making her cake, I had a lot of spare walnuts, dates and coconut meal so I decided to combine it all into one SUPERSNACK!!! to keep me satisfied (and attentive) during the long lectures at uni. This plan worked...kind of. Well over half of them were eaten at home while procrastinating. And then six of them were eaten...wait for it...in the car on the way to my mother's house yesterday! I know! I had been meaning to give them to my family but...I know, I know, I'm a monster! :(
Anyway, it's a very simple formula, so here it is:
PowerBalls!
Ingredients:
1 cup dates, soaked for an hour or so (or figs, or any other dried fruit)
1 cup walnuts, roughly chopped (or any other nuts)
1 cup coconut meal, plus extra for coating.
Method:
Blend ingredients until they come together and there are no big chunks.
Shape into balls
Roll in coconut
Hey presto! All done! How easy was that? :P
Too easy.
Not to mention, healthy, gluten free, packed full of food stuff, vegan, no refined sugar...the list goe son and on!
So go make 'em!