Happy Monday everybody! Hope you all had wonderful weekends!
Mine was pretty enjoyable, actually. On Saturday I had my first opportunity to work while my boyfriend was in the kitchen! I was actually kind of nervous. Every time I said 'order in' or asked for something I blushed just a little bit. Hahaha. (By the way, I'm a waitress working at one of Brisbane's best restaurants – Moda (if you're ever in this part of the world, you should DEFINITELY dine there for some really amazing and inspiring Spanish and French influenced food. There's not too many options for vegetarians on the menu, but the chefs are ALWAYS happy to make up something special for anyone with any dietary requirements), and my boyfriend just started work there as an apprentice chef). On Sunday I went to uni for a group study session, which resulted in a group gossip session, which is always preferable.
And I made sweet corn and zucchini ratatouille. Delicious!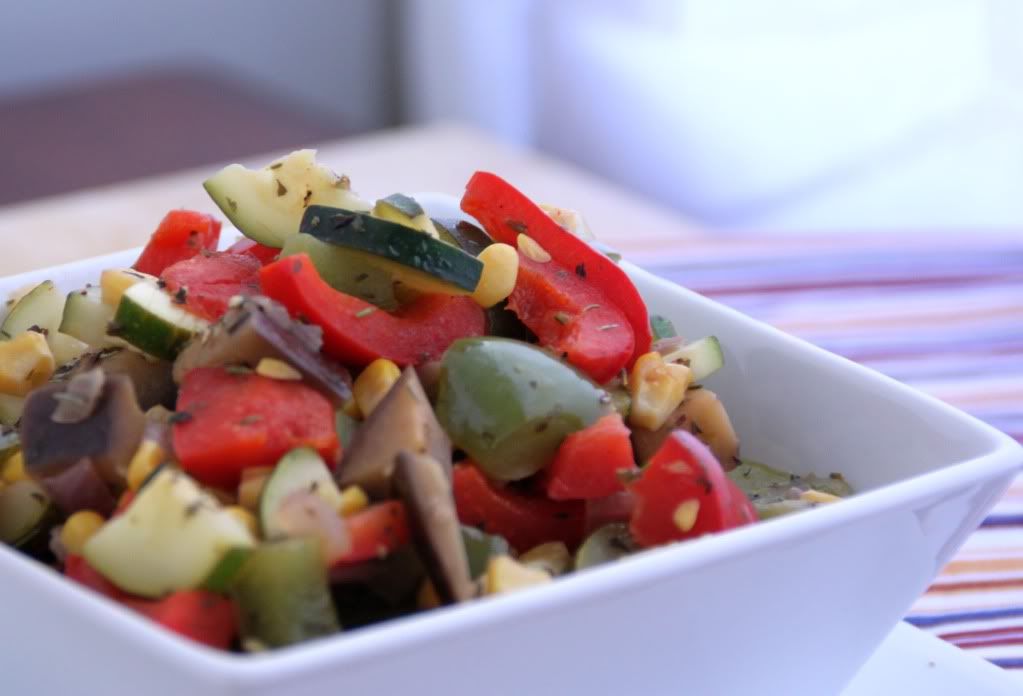 It's also soooooo simple to make!
Here's the recipe:
Ingredients:
1.5 tablespoons olive oil
1 red onion, diced
2 garlic cloves, finely chopped
1 red capsicum
1 green capsicum
½ eggplant
3 zuchinni, diced
1 can corn
¼ cup freshly chopped parsly
2 tsp freshly chopped thyme
¼ cp freshly chopped basil leaves
2 tsp fresh lemon juice
Method:
1. Heat the oil in a large pot over medium-high heat.
2. Add the onion and sauté for around 4 minutes, or until softened.
3. Add the garlic and sauté until fragrant (about 30 seconds)
4. Add the capsicum and sauté for another for minutes, and then add the eggplant, and continue to cook until soft.
5. Finally, add the zucchini and corn and sauté for a further five minutes or until they are crisp-tender.
6. Stir in the herbs and lemon juice and season with salt and pepper.
See? How easy is that? Not a traditional ratatouille, sure, but tasty nonetheless!
I unfortunately didn't have any fresh herbs on hand, and was much too lazy to run to the shops, so I used dried. I definitely recommend fresh though, because although dried wasn't bad, they didn't impart as much flavour as I would have liked, and they were hard to chew!
Plus, they don't look anywhere near as good as fresh herbs, don't you think?