One of my favourite memories as a child is eating fresh baked (and still deliciously hot) pretzels with butter in Freiburg, Germany. One of my mum's best friends lived there, and when we went on a family trip to Europe, we stayed with her for a week. And every morning, we ate delicious, hot, buttery pretzels. I was in heaven.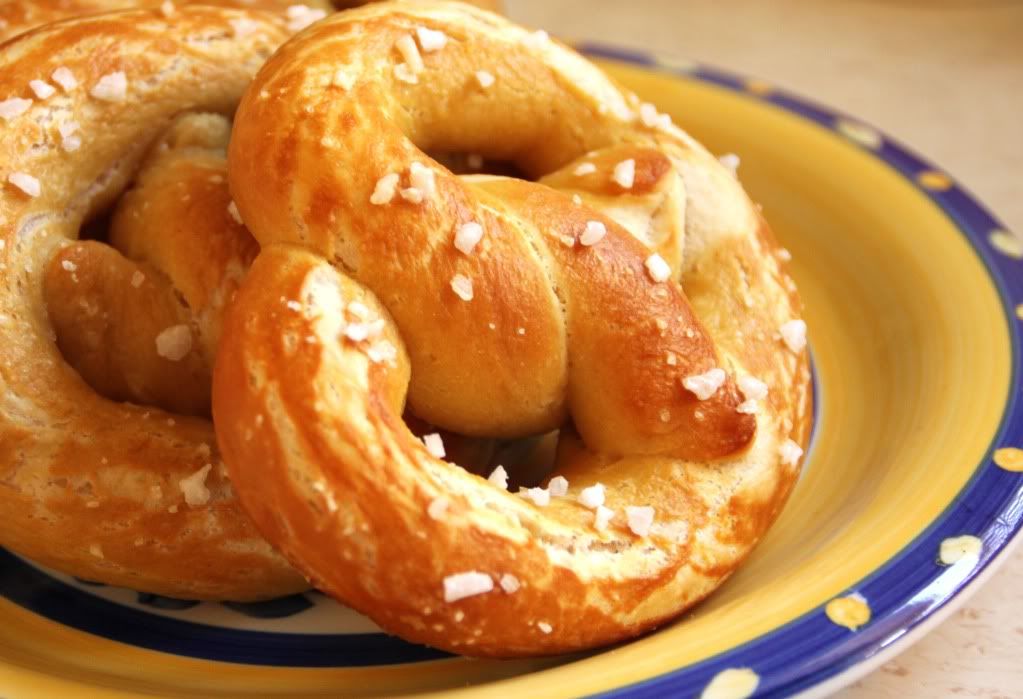 Unfortunately, it wasn't until five years later that I was able to eat another pretzel. This time, we bought them from an Austrian lady who had a stall at the local markets. They were good, but not as good as I remembered, and I quickly forgot about them.
Lately however, with the warm weather at an end, and chilly, blustery days replacing it, I started craving delicious homemade breads and pastries.
I was sitting in a Constitutional law lecture (not paying any attention at all), when I remembered pretzels and two days later, here they are, fresh and delicious, sitting in my kitchen calling to me. I'm trying to resist, because I know they're bad for me. I know my tummy won't be happy with me if I don't but...well, they smell so
good
and
fresh
and
amazing!
I've already had one, and now I'm addicted (again!)
Pretzels:
Ingredients
1½ cups warm water ( about 45˚C)
1 tbsp brown sugar
2 tsp salt
2¼ tsp instant yeast
4 ½ cups plain flour
4 tbsp unsalted butter, melted
Vegetable oil, for greasing the bowl
10 cups water
2/3 cup baking soda
egg wash (1 egg yolk beaten with 1 tbsp water)
sea salt
Method:
1. To make the dough, combine the water, sugar, salt and yeast in a bowl and whisk until yeast is dissolved.
2. Add the flour and butter, and mix until the dough comes together and leaves the side of the bowl.
3. Turn out from bowl and knead for five to ten minutes, until smooth.
4. Transfer to another bowl, greased with vegetable oil, turn over to coat and let it rise for an hour or until it has doubled in size (I actually left mine over night as I wanted them for breakfast, and I didn't want to get up really early to make them...)
5. Preheat the oven to 230˚C, and prepare baking sheets with baking paper.
6. Divide the dough into 8 equal pieces, and, one piece at a time, roll them into 60cm ropes.
7. Make a 'U' shape, then cross the ends over and fold them onto the bottom of the U to make a pretzel shape.
7. Bring the water and baking soda to the boil in a large stockpot.
8. Put the pretzels into the boiling water, 1 or 2 at a time for 30 seconds or so, remove from the pot with a slotted skimmer, and place on the baking sheet.
9. When all the pretzels have been boiled, brush with egg wash and sprinkle with salt.
10. Bake for around 10-15 minutes, or until golden brown, then transfer to cooling rack before serving.
I really enjoyed making these. I love making bread. I love kneading the dough, the smell of the yeast, and watching it rise. Most of all, I love the smell of freshly baked bread. Yum!
I enjoyed eating them even more, as did my boyfriend who gobbled down two in the space of about thirty seconds! I'm definitely adding them to the list of 'Awesome Breakfast Ideas'!